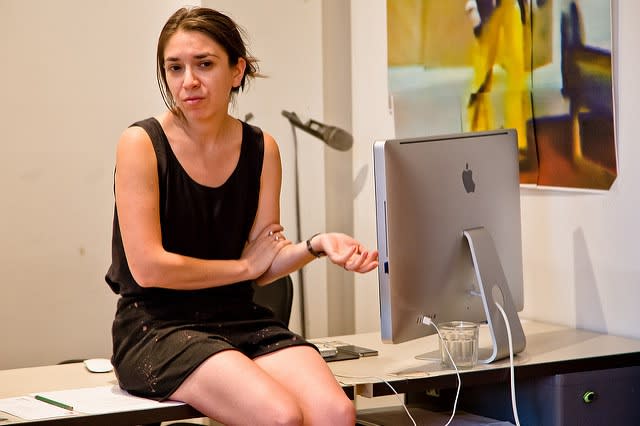 Sara Greenberger Rafferty (b. 1978) lives and works in Brooklyn, NY. In October 2021, she opened a solo exhibition at the Carnegie Museum of Art in Pittsburgh, PA.
In 2017, Gloves Off, a solo museum exhibition accompanied with a fully illustrated catalogue opened at the Samuel Dorsky Museum of Art at SUNY New Paltz, NY and traveled to the University Art Museum in Albany, NY.
Other solo and two person exhibitions include DOCUMENT, Chicago; JOAN, Los Angeles; the John Young Museum of Art at the University of Hawai'i, Manoa; Rachel Uffner Gallery, New York; kim?, Riga, Latvia; The Kitchen, New York; MoMA PS1, New York; Eli Marsh Gallery at Amherst College, Massachusetts; The Suburban, Illinois; Fine Arts Center Gallery at University of Arkansas; and a commissioned sculpture for the Public Art Fund.
Rafferty has participated in group exhibitions including Sculpture Milwaukee 2021; the 2020 Biennale für aktuelle Fotografie in Mannheim, DE; the 2014 Whitney Biennial; the Hammer Biennial; the Portland Institute for Contemporary Art, Oregon; the Museum of Contemporary Art, San Diego; the Atlanta Contemporary Art Center in Georgia; Galerie Andreas Huber, Vienna; the Aspen Art Museum, Colorado; Neuberger Museum of Art, Purchase, New York; Gagosian Gallery, New York; and The Jewish Museum, New York, among many others.
She is Associate Professor and Director of Graduate Studies in Photography at Pratt Institute in Brooklyn.
Studio Visit, Rafferty's upcoming experimental monograph, will be published by Inventory Press in the Winter 2021-2022.
---

Sara Greenberger Rafferty Studio
555 Dekalb Avenue
Ground Floor Left
Brooklyn NY 11205
sara AT sgrstudio.info
U.S. Gallery Representation:

Document, Chicago

info AT documentspace.com
• Document

2008 – 2021

Rachel Uffner Gallery, New York

Pratt MFA in Photography
Art Profs America
Paper Cuts
Public Fiction
Triple Canopy
Forth Estate Editions

The Kitchen
PICA
Printed Matter, Inc.
North Drive Press
Hampshire College
W.A.G.E.
Social Malpractice Publishing
Wingate Studio

Favorite artworks:

1520-22 Hans Holbein the Younger The Body of the Dead Christ in the Tomb
1863 Eduard Manet Olympia
1963 Claes Oldenburg Bedroom Ensemble
1965 Yoko Ono Cut Piece
1971 Chris Burden You'll Never See My Face in Kansas
1975 Chantal Ackerman Jeanne Dielman, 23 Quai du Commerce, 1080 Bruxelles
1978 Roy de Carava Man in Window, New York
1982 Allan McCollum Surrogates
1986 Nan Goldin The Ballad of Sexual Dependency
1987 Sherrie Levine Large Gold Knot 1
1988 Adrian Piper Cornered
2003 Andrea Fraser Untitled
2011 Maurizio Cattelan All
2013 Camille Henrot Grosse Fatigue
2020 Steve McQueen Lover's Rock